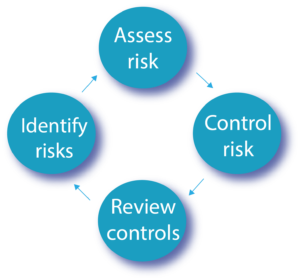 We all face risks as we go about our normal lives and how we manage these can often become second nature – putting on a seatbelt, taking out suitable insurance or keeping our bank details private.
We believe that the communication of information on risks, and how they may be mitigated, is now even more important because of the threats that we face in our business lives. The information that we provide in our Risk Management Library is relevant to all our regulated community, irrespective of the types of roles you are in or the companies in which you work.
The topics covered in the Risk Management Library highlight:
some of the main risks that you will see on a day-to-day basis
the benefits of putting in place policies and procedures to address them; and
where to find additional support and help
We have also published guidance and papers from other organisations that we believe will help manage risk.
The Risk from Money Laundering 
More than ever there is a focus from Government on the steps that we are all taking to combat money laundering, disrupt organised crime and prevent the funding of terrorist activities.
As the legal sector is seen as an attractive target for those wishing to launder the proceeds of crime, this is a major risk for us all to combat. Therefore, we have provided separate guidance and information to assist individuals and firms to help combat this risk – Anti Money Laundering.
Our approach to managing risk when authorising entities
The documents below set out our approach to applications for authorisation (including licensing) and how we assess and manage risk. They indicate the types of applicant entities that we believe are suitable for authorisation by CILEx Regulation. We explain how we use our Risk Assessment to carry out our desk-based authorisation and supervision, and the types of entities that we believe are suitable for regulation by CILEx Regulation.
They should be read in conjunction with the CILEx Authorisation Rules and CILEx Regulation Licensing Rules.
Other resources